Organizations planning to upgrade the skills of their employees and incorporate new training programs into their business are turning to digital learning than traditional classroom learning. Digital learning gives access to a large number of learners to their learning modules at the same time without any time or location barrier. Since the conventional methods of learning and development for the employees is time-consuming and expensive, corporates are now understanding the benefit of digital learning methods and making it a part of their culture.
While delivering digital learning modules, organizations need to pay keen attention to their skills and interests of each employee and personalize the content according to their needs and requirements. As a digital learning service provider, Cognigix develops feature rich applications that deliver tailored training programs to the learners based on their preferences, location, usage behavior, and more. With Cognigix mobile learning app it is much more convenient to personalize the course for the learners.
Benefits of mobile learning app for businesses in corporate training:
Cost-Effective – An e-learning app is cost-effective as it does not require the infrastructure required for a physical classroom training. You can save the money spent on a venue, study materials, and travelling costs to the classroom.
Flexible and Convenient – With e-learning apps, anybody can join virtual training classes that makes it convenient for the learners to enroll in such programs and upgrade their skills.
Improves Overall Productivity – Another benefit of e-learning apps is that it allows the user to learn anytime and anywhere which makes it easy for them to do the training without affecting their contribution or productivity at work.
Easy Access to Learning Materials – If you are using a learning app for the digital learning modules then you can have access to well-written notes in pdf and video lessons with references in an interactive manner. This enables the learners to consume information easily on their fingertips.
Easy Feedback – Learning app gives the facility to provide feedback to tutors and courses in realtime and also allows real-time checking of the learner's progress.
Better Retention – The interactive content available on a mobile learning app is easy to use and understand the lessons. This eventually makes the learning process much more convenient which makes the learners retain the information easily and use more productively at their workplace.
Cognigix mobile learning app provides the best-in-class learning solutions available in a multilingual format and cross-platform device compatibility. The compact learning app allows 24x7x365 access to the shared content from anywhere and at any time. The learning approach through the app ensures that no part of the program is missed out. With a learner friendly UI and UX, the app makes it convenient for learners to complete the training on time and have better outcomes.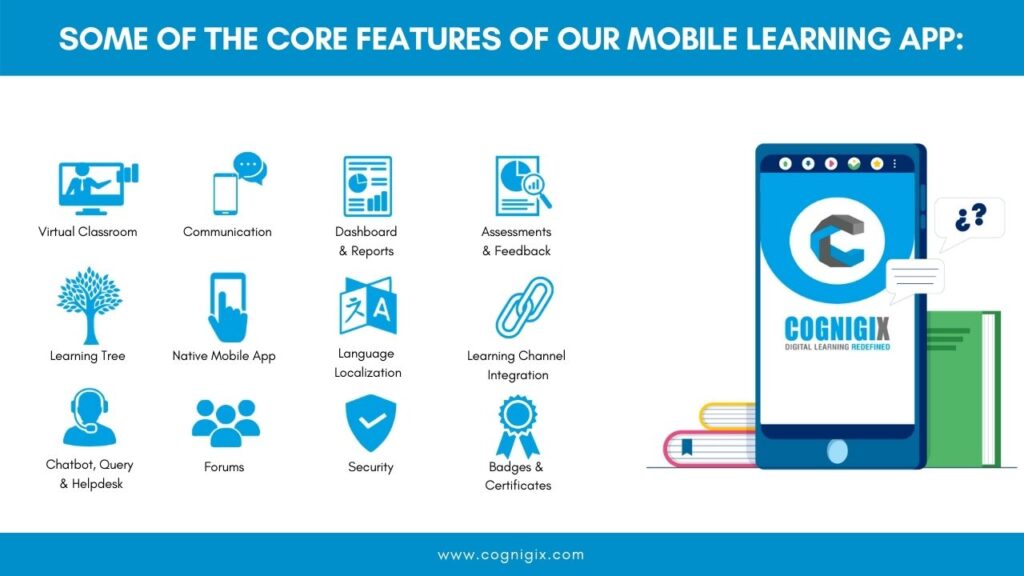 Some of the core features of our mobile learning app: 
Virtual Classroom
Communication
Dashboard & Reports
Assessments & Feedback
Learning Tree
Native Mobile App
Language Localization
Learning Channel Integration
Chatbot, Query & Helpdesk
Forums
Security
Badges & Certificates
Upgrade the skill of your employees and boost your company growth with an end-to-end personalized learning solution with Cognigix mobile learning app.
Reach out to us at info@cognigix.com or call us at +91 22 2778 0083.