Every organization has its own learning needs and requirements. If you are looking for solutions to upgrade the skills of your employees, then custom eLearning could be the right solution for you. E-learning has been around and trusted by many organizations for quite some time now. Considering the benefits it offers over conventional or textbook learning, e-learning is now a widely accepted mode of learning for many professionals.
Here are four reasons why you should consider custom e-learning to upskill employees:
Tailor-made courses that aligns with organizational needs
Training that aligns with your brand guidelines
Optimum use of time and resources for maximum efficiency
Unparallel scalability with longer retention value
Custom e-learning VS Traditional courses:
Off-the-shelf courses can be bought upfront and easily accessible, but there are a few issues with off-the-shelf courses
They are developed for a generic audience; hence, they might not address questions specific to you.
They are created in a general format that might not work out for everyone.
They are highly impersonal
This table below demonstrates the difference between custom e-learning and off the shelf courses.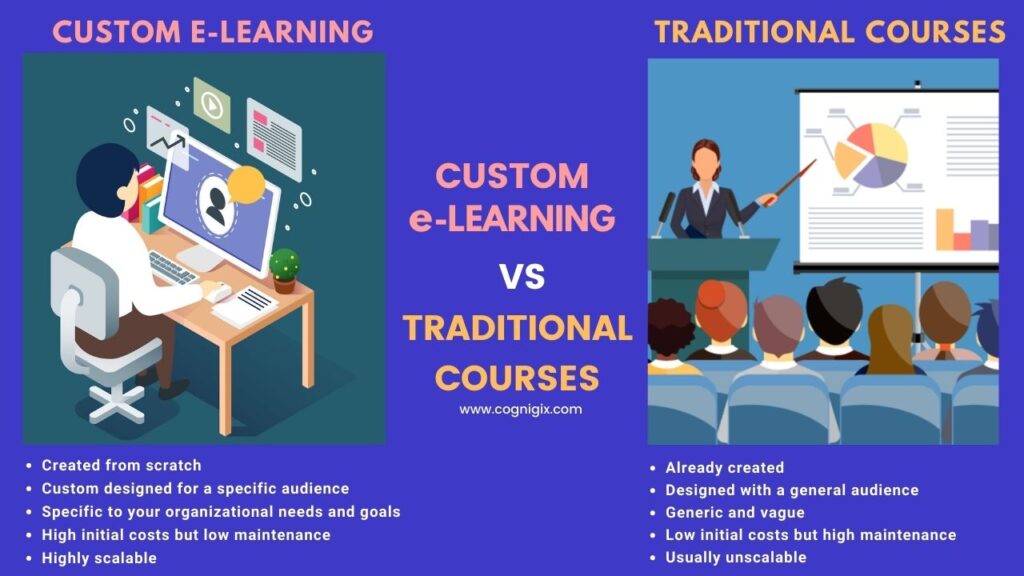 | | |
| --- | --- |
| Custom e-learning |      Traditional courses  |
| Created from scratch | Already created |
| Custom designed for a specific audience | Designed with a general audience |
| Specific to your organisational needs and goals | Generic and vague |
| High initial costs but low maintenance | Low initial costs but high maintenance |
| Highly scalable | Usually unscalable |
At Cognigix, we cater to your digital learning needs. Our custom e-learning solutions help you achieve your business goals by upskilling your employees. Through custom e-learning, we can create a favourable learning environment that is highly personal and designed to maximise learning and optimise resources.
Why invest in custom e-learning courses?
Customisation is critical whether it is an offline course or an e-learning solution. Custom e-learning allows and ensures real-time workplace relevant knowledge instead of textbook theory. Custom e-learning also provides optimum learning in a limited set of time and resources.
Customisation also solves one big problem, which is taking learning behaviour and patterns into consideration. Each person learns differently, and it is not right for everyone to learn similarly. Custom e-learning customises content that is psychologically more appealing to the learner and thus ensures efficient learning.
Cognigix custom eLearning solutions can be customised for all types of business goals and your employees learning goals. We help organisations with our custom eLearning solutions to upskill their employees and grow their business.
Benefits of Cognigix custom e-learning:
Saves time and resources:
Customisation helps save time, efforts, and resources. It allows learners to retain their knowledge longer. Customised e-learning is essential because it is the most appealing way to increase learner's efforts and is comfortable for the course trainer to make the learning easy and effective.
Custom e-learning is highly scalable. This high scalability of custom e-learning reduces implementation costs and efforts. It also optimises resources and ensures a favourable learning outcome.
Cognigix designs and delivers end-to-end custom eLearning solutions. The accessibility, flexibility and convenience of the custom e-learning modules allows on the go training. Learners also get 24*7 access to this custom content so they can learn at their pace.
Be a part of this learning revolution with Cognigix custom eLearning solutions. 
To know about Cognigix Digital Learning Pvt. Ltd., write to us at info@cognigix.com or call at +91 22 2778 0083