The Information Technology (IT) industry is inundated with constant developments in every aspect and it is important for the companies belonging to IT sector to keep up pace with it. Learning and development programs plays a crucial role as it helps employees to learn and acquire new skills, as well as gain professional knowledge required to progress in their career.
Digital transformation has now become imperative for all business, small, medium or large. Today, digital transformation is a major force that's changing industries and influencing the way corporations and institutions work. Digital transformation is not just about embracing a new technology, it is about a change in the entire organization goal and culture.
However, IT companies face several difficulties in transforming their employees and developing their skills due to many reasons, one of them is the difficulty in assembling the entire workforce to upskill them together.
Challenges faced by the IT sector in adopting L&D and their need for digital transformation:
Learning new skills consistently is of utmost importance for employees in the IT industry to be proficient to be proficient in their specific field. Professionals gain amazing levels of confidence in their capabilities that helps them create the result they visualize and desire- that which benefits both, the organization and the concerned professional.
However, there are many challenges that are faced by the IT sector to make their employees undergo learning and development training that needs to be assessed.
Professional learning solutions through formal classroom-oriented training to upskill the IT employees have taken a backseat as it is not cost-friendly and extremely time-consuming. With such type of physical training, it is difficult to assemble the entire workforce under one roof and organize a streamlined training. And providing individual training to each and every employee is not feasible.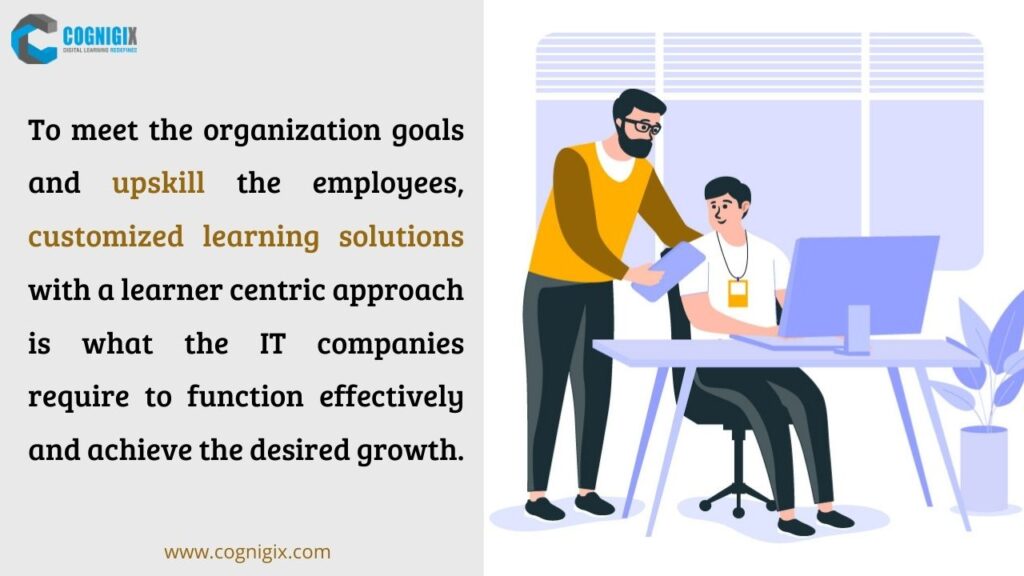 Employees in the IT companies should be knowledgeable about all the latest technological advancements in their industry so as to effectively use them while developing software or products. In such a scenario, adopting digital learning or e-learning is the perfect choice IT companies can make. To meet the organization goals and upskill the employees, customized learning solutions with a learner centric approach is what the IT companies require to function effectively and achieve the desired growth.
Conventional learning and development training are also not completely scalable as organization cannot measure whether each employee has received the kind of information as it might be held at different locations. While with e-learning it is easier to scale the learning as it is not location bound.
While distance learning has been around for a long time, the COVID-19 pandemic has underscored the need for companies to implement learning and development with remote e-learning or mobile learning to become resilient and more flexible. With digital learning solutions, organization can ensure that their workforces need to be productive, engaged, and continually working towards learning and improvement.
Learners can get curated content based on the needs and requirements of the organization and employees can be given regular training over a period of time which can be simultaneously used in the process of working. Digital learning is the new way of meeting the needs of technology world of tomorrow.
The speed, accuracy, flexibility and feasibility of on-the-go learning of e-learning modules makes it a must for the competitive IT sector. The most advantage feature of this is mobile learning app learning that allows all learners 24*7*365 access to the content.
Cognigix designs and delivers end-to-end customised digital learning solution with an aim to create a positive impact in the Information Technology industry with their learning and development services. Digital learning at Cognigix is an intricate process that is built with several mechanisms that include learning architecting, content digitisation and optimisation, online delivery app and learning adoption.