To maintain excellence in customer service and a competitive edge in the current business environment, organizations need to continuously train their workforce. Every industry and department should provide optimum relevant training and development for employees. This can be achieved by creating engaging training material that grabs the learner's attention and motivates them to participate in training actively, as no one-size-fits-all solutions for organizations. A custom eLearning program is designed to meet the specific training needs of an organization, increase relevance and engagement in the training resulting in better learning outcomes. In addition to saving both time and money, custom eLearning modules prioritize the skills and areas that need to be addressed according to the needs of your business without compromising on quality. To meet this requirement, the organizations partner with external vendors to provide high-quality, innovative, and customized eLearning solutions. Outsourcing eLearning development to the right vendor offers several benefits to organizations and also helps in achieving goals while maximizing ROI.
Benefits Of Outsourcing eLearning Development: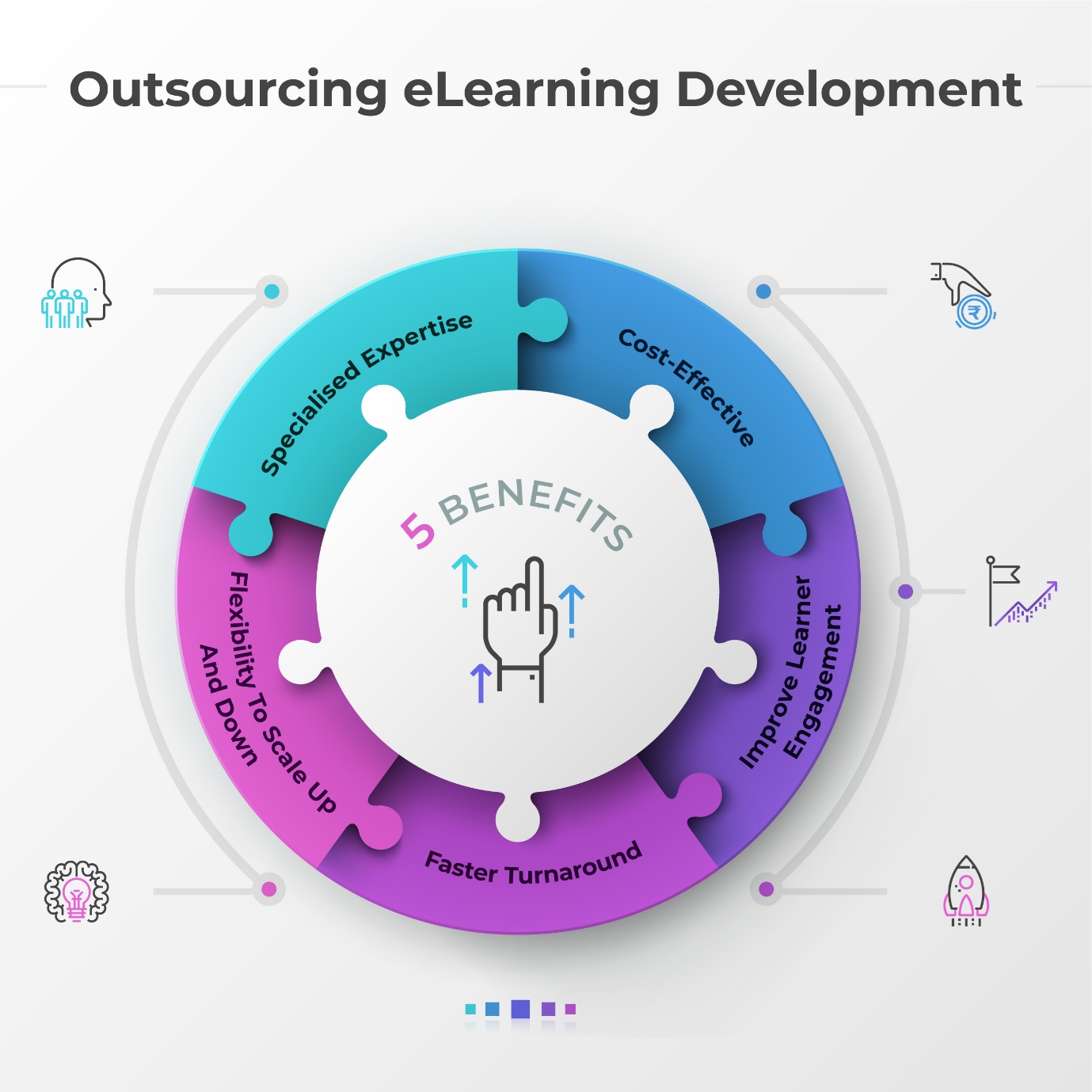 1. Specialised Expertise
There are times when organizations need a different and fresh perspective on the training programme and the in-house team lacks the required skills or expertise to create courses. Also, at times in-house teams might know but not have as much experience with the various latest technology and authoring tools to create high-end interactivities for eLearning courses.
Outsourcing development work to specialized vendors allows organizations to leverage their knowledge and abilities instantly. With the help of experts, the development process becomes quicker and more effective as they are better positioned to deliver quickly while ensuring quality. These experts leverage advanced instructional design strategies to create eLearning courses up to modern standards. They know the trends and can advise organizations on how to adapt to the training requirements.
2. Cost-Effective
Partnering with an eLearning vendor is the biggest benefit of outsourcing as it helps organizations to reduce the development cost because they spend money when required in content development. By outsourcing, the company gets access to talent pools that precisely match their needs for a fraction of the cost that it would incur if it hired them internally. This results in a substantial reduction in the costs associated with recruitment, training and maintaining an in-house team as well as the acquisition or upgrading of technology since everything is managed by the vendor.
3. Improve Learner Engagement
A great way to keep learners engaged and motivated is through good training content and development programs. Today learners are much more eager to learn and do things quickly when they have fun during the learning process. Outsourcing eLearning development to a vendor allows accomplishing this objective. Vendors have a dedicated team of instructional designers, learning experts and multimedia developers who bring in expertise and follow best practices to develop courses. When learners go through high-quality, engaging content and are trained, they feel more confident and committed in their job roles and thus increase business results.
4. Faster Turnaround
As organizations are growing rapidly, there is constant demand to develop training programs. In-house teams may not always have the bandwidth or the capability to quickly develop training content. Outsourcing could be a good option to consider as the in-house team would take a longer time to complete. E-learning vendors have former knowledge, experience and expertise to scale up  production. Vendors invest in authoring tools and follow the latest best practices to develop eLearning courses that are engaging and effective.
Outsourcing allows organizations to accomplish short-term and long-term goals. For example, if an organization is trying to accomplish a short-term goal on a tight budget, eLearning vendors will work towards it and will get the training program up and running in no time.
5. Flexibility To Scale Up And Down
It is important to create courses that can be modified as and when needed. The in-house development team might lack the skills and knowledge to anticipate future needs. By outsourcing these services, organizations can develop scalable solutions on demand. Companies decide at which pace they want to outsource eLearning and then present their requirements to the vendor.
Vendors have access to tools that have in-built templates and asset libraries, allowing them to achieve scalability at a rapid pace. Partnering with an eLearning vendor also gives the organization  access to their expertise and work on tight deadlines.
Ways Custom Learning Development Outsourcing Can Maximize ROI  
1. Outsourcing Development When In-House Team Lacks Expertise
A big challenge with custom eLearning development for organizations is the availability of in-house skilled teams, cost and the time to do it. Outsourcing becomes a preferred choice to have the best quality and cost-saving. Working with an eLearning vendor will provide access to a team of eLearning professionals exclusively focused on developing the finest eLearning content.
Organizations can outsource only those aspects where their internal teams lack the skills. For example, if your in-house team lacks expertise in developing or customizing complex animation, you may outsource development and save on the cost of hiring talent and purchasing tools.
2. Evaluate The Potential Of eLearning Vendor
Select an eLearning vendor and evaluate its strengths to ensure smooth collaboration.  A vendor that understands the needs of your organization and has the capability to deliver high-quality work. An effective evaluation strategy will help address the challenges to create a long-term partnership and deliver the required results.
Here are some tips to evaluate the eLearning vendor to get maximum results –
• Verify their level of expertise and experience in your niche and necessary skills. Check their work samples to evaluate the quality of their work.
• Ensure they have a good team size to scale up in a short notice period. You may also ask for profiles of development team members who are going to work on your project.
• Analyse the effectiveness of existing tools an eLearning vendor is using to create modules.
• Understand their development process and ask for detailed workflow and supporting assets.
• Ensure that the vendor has prior work experience working with global clients in different time zones and languages.
3. Consult With Subject Matter Experts
SMEs are professionals with extensive knowledge about a subject and their main responsibility is not to train. As domain knowledge experts, SMEs play a vital role in creating and evaluating the right content for learner-centric courses making it more effective.
Here are some tips to get the maximum output from SMEs –
• E-learning projects may not be their priority, so getting SMEs inputs is difficult. Create a collaborative process to communicate and involve SMEs.
• Make sure you have questions and documents reviewed by SMEs at regular intervals and share them with eLearning vendors to meet the learning objectives.
• Ensure to set clear expectations with SMEs and make sure they are informed well in advance of scheduled timelines for reviews and clarifications.
• Use simple templates that cover the core objectives and help them share their expertise.
Final Thoughts
As organizations grow, they prefer to outsource eLearning services because of the benefits it offers. Organizations find outsourcing to be an excellent one-stop solution as they are able to access a wide range of qualified specialists to create eLearning courses. Organizations may also choose to have more than one partner to address their varied needs. Outsourcing eLearning development provides an opportunity for organizations to innovate, grow and focus on other important aspects of their business.