Recruitment is a time-consuming and expensive affair for every organization. Once the human resource department selects a suitable candidate for a desired role, it is imperative to take all measures to induct them swiftly and efficiently into the organization. The traditional face-to-face method is usually the most adopted by the most organizations as it gives the human touch effect that goes a long way in inducting new employees and how they can contribute effectively. However, with the onset pandemic and increase in remote working, the traditional methods of induction and onboarding has been facing its challenges and more organizations are now moving towards blended or fully online approach to impart corporate induction and onboarding training.
Cognigix is a digital learning services provider that is specialized in developing feature-rich applications to create the perfect learning environment according to the needs and requirements of the learners. We have now introduced online onboarding training and e-induction programs for corporate to transform their corporate induction and onboarding training to gain higher impact through online or blended approach.
Although the usual conventional method is a great way to help new employees to understand the organization, their roles and responsibilities, its dynamics and company goals, it has its own limitations. Let us have a look first at what are the challenges with the traditional face-to-face approach to impact induction and onboarding:
Lack of time with managers: Most induction and onboarding training are conducted by the respective team managers for the new employees. However, in many cases in spite of planning, the managers may not be able to dedicate the required time which may hamper the quality of interaction and delay the whole process itself.
Inconsistent communication: Often, the presenter may not be able to express everything in a clear manner all that he or she wants to convey at one go. Employees also do not have access to refer the messaging again and again to recall and understand it.
Delay in completion: Due to prior work commitments, induction & onboarding training get delayed many times in all organizations. Since it is physical, it also depends on if adequate number of employees have gathered at the stipulated time.
Overload of information: For the employees, it may become strenuous to understand all the information together as they won't have the flexibility to access the data as and when required.
Considering all the challenges above, it is best for organization to opt for Cognigix online onboarding and e-induction training programs. Here are some of the key benefits of our service:
Onboarding
Onboarding goes beyond the completion of new-employee paperwork. It is a series of processes intended to create an experience that helps an employee want to stay with and contribute to an organization. Cognigix online onboarding training helps corporate and employees to align their learning goals and boost growth and development.
How it helps?
Automates communication with new hires
Improve Response Time and stay on top of onboarding tasks with reporting – always know which documents have been completed and which are still pending
Cut Mailing and Printing Costs Paper Documents
Reduce data errors with new hires completing the paperwork and verifying their data.
Eliminate Data Entry into HRMS (Integrate and let data auto communicate)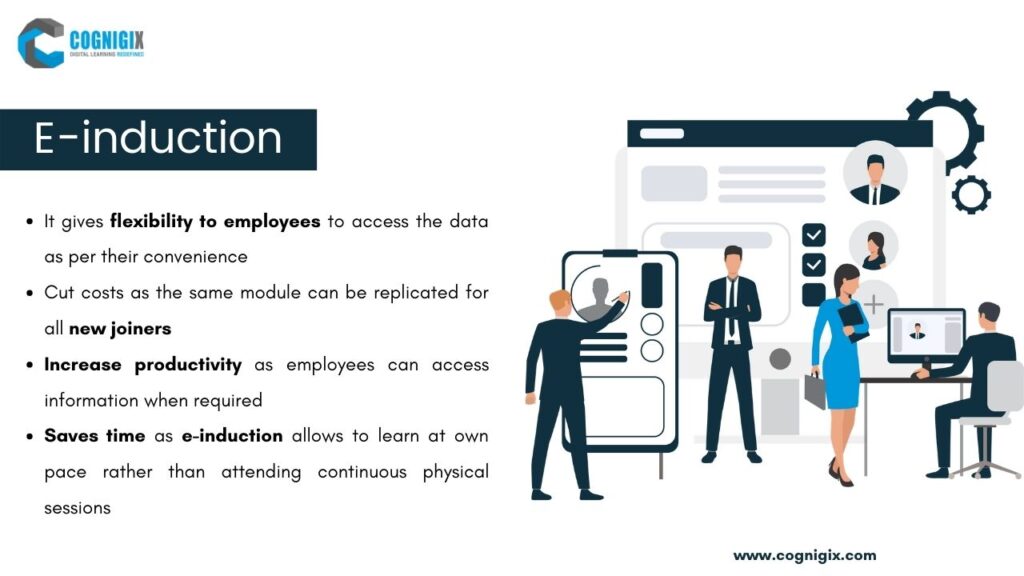 E-induction
The main purpose of induction training is to make the new employees comfortable into the company and make them understand the systems and procedures followed by the organization details. Induction training helps new employees in settling down quickly in the new work environment and gives them a sense of belonging. Cognigix E-induction is a type of induction wherein the induction modules are available online for the learners which can be accessed at anytime, anywhere. There is no need to wait till you have a fixed number of new joiners to make it worth or even when there are no mentors available to run the session, it can be accessed by learners on their own.
How it helps?
It gives flexibility to employees to access the data as per their convenience
Cut costs as the same module can be replicated for all new joiners
Increase productivity as employees can access information when required
Saves time as e-induction allows to learn at own pace rather than attending continuous physical sessions
Enrol for Cognigix onboarding and e-induction training program and ease the process of your organization to boost productivity and growth. Reach us at info@cognigix.com or call us at: +91 22 2778 0083.