(Digital learning can be described as a type of learning that is accompanied by technology or training practice that makes effective use of technology. It encompasses the application of a wide spectrum of practices including blended and virtual learning.)A digital learning strategy may include any or a combination of any of the following: adaptive learning, gamification, blended learning, classroom technologies, textbooks learning, analytics, learning objects and mobile learning, personalized learning, online learning (or e-learning), open educational resources (OERs), and technology-enhanced teaching. Digital learning enables your organization to adapt to the modern world. It also boosts staff morale and skills by providing transferable career skills. Digital learning has the added bonuses of being convenient, cost-effective, green and effective.
A recent study shows that 68% of workers claim that Training and Development is the most important company vertical. Values and code of conduct are very crucial for every organisation. Values lead to the culture that the organization has grown to promote. However, it is the people in the organization that drive it. Code of conduct is the reference for employees in supporting day-to-day decision making. For employers, it becomes necessary to impart appropriate and effective training of organisational values and code of conduct.  With the expansion in the learning paradigm and a huge increase in the number of millennials taking over the workforce, the need to make employee training digital is now more than ever.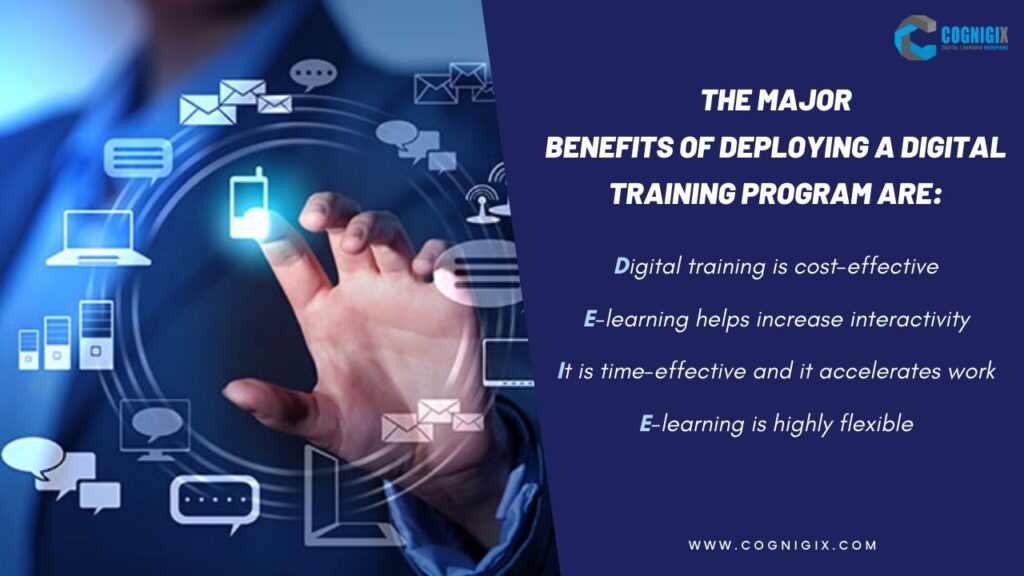 Digital learning is Paperless?. Digital training requires no paper-based course materials. You also won't use paper cups or other disposables often used at venues. And your certification will likely be PDF, not paper making the process eco-friendly. Other than these, the major benefits of deploying a digital training program are:
Digital training is cost-effective- Employees don't have to travel to undergo training or invest in special equipment, hefty study materials. Digital training also saves a lot of conveyance money and time simultaneously. There is no need to invest in any special equipment or learning resources for each module of their course.
E-learning helps increase interactivity- Digital training is highly engaging and the learning content is designed to be interactive to hold the attention of the learners. Trainers who already have the skill and knowledge can easily equip themselves with the possibilities of upskilling through digital technology. This can also cause real change management in the training departments.
It is time-effective and it accelerates work- Digital training makes the training less time-consuming. With digital training, the tasks done in an organization can be done "efficiently". Digital training helps learners and increases the overall productivity and revenue of an organization.
E-learning is highly flexible- It allows employees to log in to their system and access the digital training whenever they can. If an employee is needed in between his training session, they can also pause and resume at a later stage.
It's time to deliver your employee training digitally. Living in the digital era and organisational training needs justify the necessity of digital training. Digital learning is pacing to create a workforce of motivated, engaged and adeptly skilled employees.
Cognigix is the one-stop solutions for all your digital training needs. Start deploying your organisational training with Cognigix. Click here to know more.