The digital shift of banking and financial enterprises has been evident. This shift has enabled the BFSI organisations to revisit their operating models. The increasing demand for cloud-based application development has led organisations to embrace cloud-based solutions to deliver higher value with respect to service and experience.
Digital transformation will drive crucial alterations in how the financial institutes perform and provide value to their clients. Banks which attempt this transformation can anticipate reduced expenditures and facilitated processes. This integration also assists in providing a more hassle-free and engrossing customer understanding. Digital transformation implies more than technological adjustments; it influences everything from customers, employees, products, services, and procedures.
Presently in India, there is raised spending on infrastructure, fast enactment of projects and persistence of banking reforms. These are anticipated to furnish impetus to the development of the industry as a total. All these components suggest that India's banking sector is established for a robust expansion.
Need for Digital Learning in BFSI
There is a rising importance of the banking sector in the current business scenario globally. However, there are several challenges in terms of learning and development of the employees and organisations that are faced by the banking sector that needs to be addressed.
Professional training and learning solutions to upgrade the skills of the employees through traditional classroom sessions are a thing of the past as they turn out to be expensive and time consuming. With such type of classroom learning, it is difficult to establish a common platform for training of all employees under one roof. Hence, providing individual training does not seem to be feasible and cost-effective for most of the organisations.
Employees in BFSI should be well-versed with all the aspects of the products and services that their organisation is offering so that they can serve their customers better which is the ultimate agenda of any organisation. In such a scenario, adoption of latest technologies like e-learning is helpful for the development of the banking sector. Customisation of learning solutions with a learner centric approach is what banks and other financial institutions need, to function efficiently and achieve growth.
Leaning and development in BFSI makes it easier to get curated content and pass it to the learner. Rather than investing lot of time and financial resources, employees can be given regular training to hone their skills over a period of time and apply it simultaneously in the administrative functions.
It is more flexible and easier to understand for the learners as it enables them to learn on-the-go, get constant assistance, solver their doubts, improve their weaknesses and turn them into strengths. Digital learning is the new way of coping with the needs of the BFSI sector of tomorrow. Speed and accuracy are the key drivers that makes learning and development a must for the highly competitive banking sector.
Digital transformation has formulated a favourable impact on business undertakings in the finance sector. It has led to faster, cost-effective procedures, meeting regulatory deadlines, enhanced employee and client experience, and staying competitive. Furthermore, the advantages of digital transformation, comprising superior client experience and operational efficiency, are clear.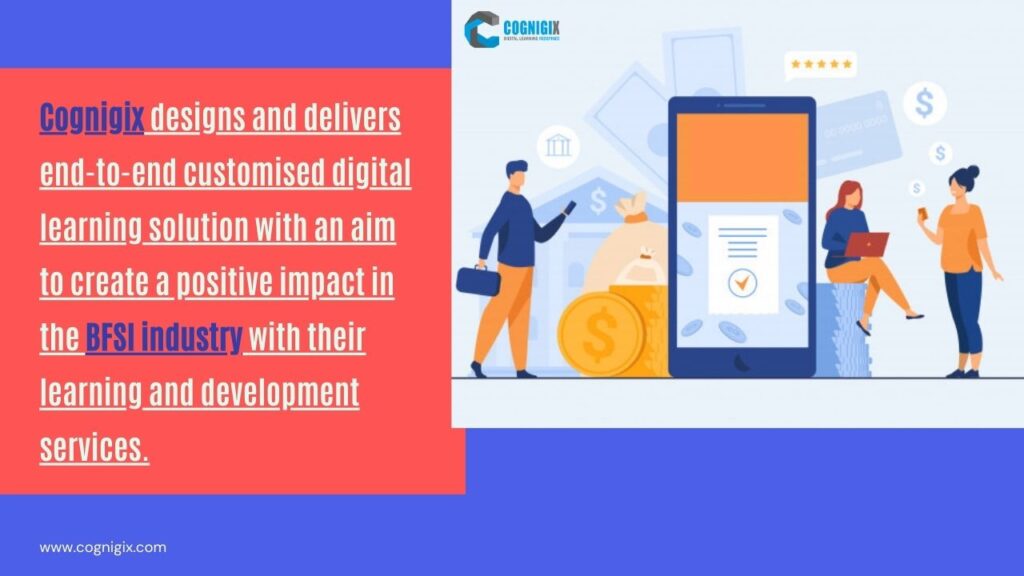 Cognigix designs and delivers end-to-end customised digital learning solution with an aim to create a positive impact in the BFSI industry with their learning and development services.  Digital learning is an intricate process that is build with several components that includes learning architecting, content digitisation and optimisation, online delivery app and learning adoption. L&D Professionals in the banking and financial institutions can upgrade their personnel's skills like interpersonal communication, marketing, sales, customer service etc. with the help of Cognigix solutions.