Digital learning has been an ongoing trend for most organization for quite some time. However, this trend got a further push with ongoing pandemic situation that necessitated digital transformation and learning across all industries including the IT industry.
The Information Technology industry faces a number of challenges everyday with the constant advancements of technology. This is a very competitive sector in which there needs to be a scope for innovations every single day. Hence, employees in IT need to be trained to upskill themselves with accelerated learning to boost their performance and meet the goals of the organization.
Most corporates in this sector are spread over various global locations which makes it difficult to organize simultaneous learning and development training for all at the same time. Cognigix understands that every organization has their own needs and requirements pertaining to their industry. Cognigix digital learning solutions can be a very effective way to provide quick and efficient learning and development opportunities for your employees.
For every company, employees are their biggest asset. In IT corporates, employees perform various specific roles and responsibilities to meet the organizational goals and objectives. As a digital learning service provider, Cognigix understands that the needs and requirements of the IT industry are different than the others.
Hence, we provide deeply customized end-to-end e-learning solutions for the technology industry that are personalized according to the learning needs of the particular learners. With Cognigix e-learning solutions conceptualizing learning journeys architecting for all levels and functions. Our learning modules seamless integrates across multiple delivery channels and also enables cross-platform learning that gives accessibility from anytime, anywhere from any device.
This provides cost-effect and time-saving e-learning training as against conventional learning methods. The digital learning solutions also have a higher retention value due to its 24*7*365 days flexibility as the employees can always go back and rewind what he had learnt and apply it to his work whenever needed, which is not possible if they attend traditional classroom training.
Moreover, it offers various blended established learning methods with the digital environment and provides active assistance for learning adoption. In traditional training it is also not possible to organize different training sessions for employees in different languages as some employees may not be affluent with English and may learn more faster in their own regional language. Cognigix e-learning solutions offer a multi-lingual interface and regional language content support that can be personalized to individual learners' choice.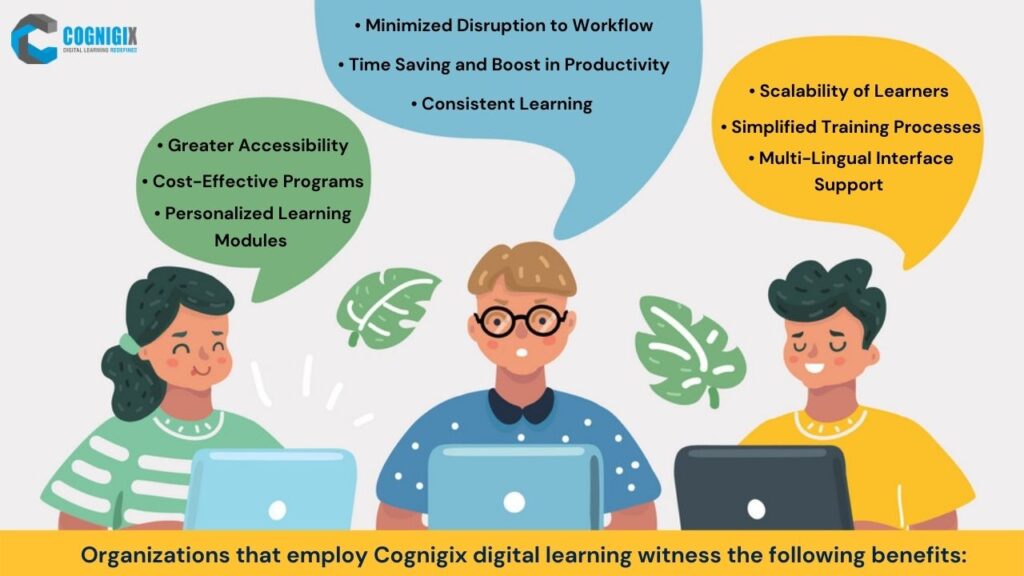 Organizations that employ Cognigix digital learning witness the following benefits:
Greater Accessibility
Cost-Effective Programs
Personalized Learning Modules
Minimized Disruption to Workflow
Time Saving and Boost in Productivity
Consistent Learning
Scalability of Learners
Simplified Training Processes
Multi-Lingual Interface Support
Implementing Cognigix digital learning solutions will help organisations in the IT sector to achieve growth, derive better performance and improve customer services.
To know about Cognigix Digital Learning Pvt. Ltd.,
write to us at info@cognigix.com or call at: +91 22 2778 0083