Customized E-learning is a method that customises the learning process according to the needs of the learner. This goal-oriented learning also includes real-time workplace scenarios in their modules. Cognigix e-learning as a digital learning platform was built with the purpose of providing personalised digital learning journeys for learners by transforming the monotonous on-job training into a more learner-centric approach to professional learning delivery.
E-learning focuses on devising content in a learner-centric approach which is beneficial in today's highly competitive corporate world. The manufacturing sector is a continuously evolving industry that has faced a major setback due to the pandemic and global meltdown in the recent times.
To get back to business in its full form, it is important for a manufacturing organisations to upskill their employees with learning and development. Since these companies have a large number of workforce spread across different locations, they need to be trained simultaneously so that they can deliver same results.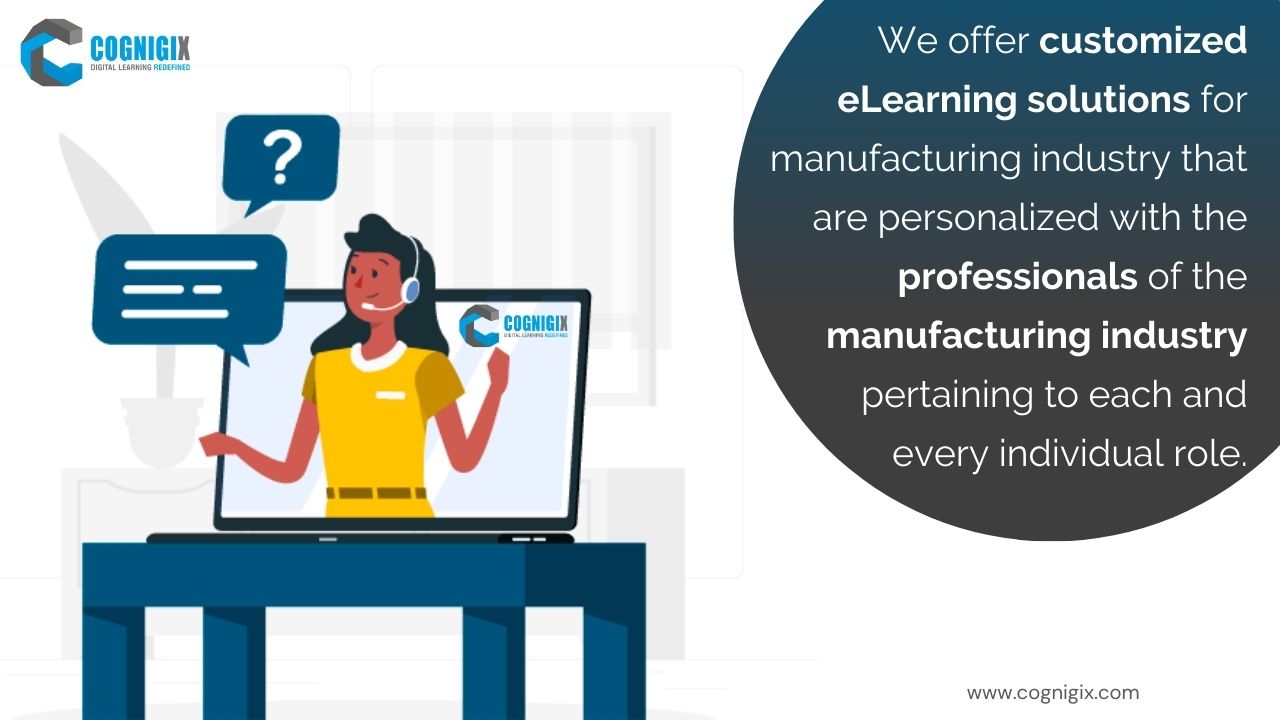 As a digital learning solutions provider, Cognigix understands that the learning needs and requirements of manufacturing companies are far different than the other industries. Hence, we offer customized e learning solutions for manufacturing industry that are personalized with the professionals of the manufacturing industry pertaining to each and every individual role.
With Cognigix e-learning solutions, the learner gets practical exposure through real-time workplace scenarios to serve the market and target learner needs. Thus, ensuring the application of the e-learning is tested in real-life situations only. Our customized e-learning modules for manufacturing sector are curated to provide knowledge from basic to advanced level.
The conventional learning methods for learning and development are not the best preferred option any more due to its cost, space constraints and low retention value. With a contemporary learning method, the learner absorption and retention rate is much higher and its is much easier to reach effective outcomes of the learning program and achieve growth of self and the organization.
Incorporating digital learning methods is the new normal for every industry that can help to transform not just the individual professional but also benefit the organization at large. Processes like production, distribution, marketing, sales, and automation etc. can be performed in an enhanced manner with the assistance of customized e learning solutions for manufacturing.
Through customization of e-learning process, manufacturing organisations can provide their employees with a learning environment and encourage them to upskill themselves. It will help them to drive effective manufacturing when their employees are updated with the technological advancements in the industry.
To know more about Cognigix customised E-learning solutions,
Reach out to us today:
Write to info@cognigix.com
Call at: +91 22 2778 0083