Digital learning has become the new trend for training the workforce in most corporate organizations in the recent times. The banking, finance and insurance (BFSI) sector is a dynamically growing industry with a number of new laws, products and services being introduced into it on a frequent manner. E-learning is crucial to transform the way the BFSI industry conducts its operations and way of working.
There are a number of challenges that the banking and finance industry faces on an everyday basis. Most of the BFSI organisations are spread over diverse locations with a huge number of workforces who need to be trained simultaneously.
Cognigix understands that one size does not fit all. Every organisation has unique requirements that pertains to role and development of their industry. The banking sector has tremendous scope for development with the implementation of digital learning solutions. Cognigix provides digital learning solutions for BFSI that are personalised with the learners in mind covering each and every aspect of the subject.
Adopting digital learning is the new normal amidst the global pandemic and the future of a constantly evolving sector like banking and finance. It helps to transform the learning professionals not just in individual capacity but also the entire organisation as they use their upgraded skills for enhanced productivity of the company.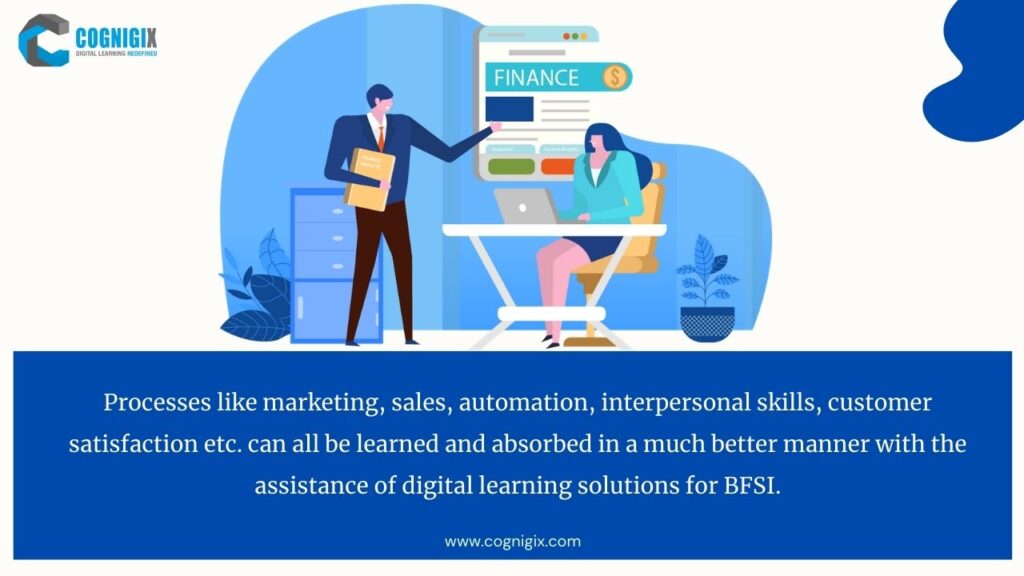 Processes like marketing, sales, automation, interpersonal skills, customer satisfaction etc. can all be learned and absorbed in a much better manner with the assistance of digital learning solutions for BFSI. To achieve all this, banking and finance corporates need to enable on the job training that enables them to learn and perform at the same time.
Our customised and learner centric content is beneficial to train BFSI workforce and make them adopt functional and administrative skills in an easy manner. The conventional classroom training follows a monotonous and routine method of teaching which is not feasible to provide to a large number of employees together. Many a times, it also creates friction between the trainer and the learner which might restrict the scope of end-to-end learning and development. Digital learning, on the other hand provides monitored and personalised learning in an unrestricted environment.
Cognigix learning solutions are conceptualised with the key elements that make digital learning a perfect solution for the banking organisations. With the speed and flexibility of digital learning solutions for BFSI, there can be continual content upgradation and management that can be modified as and when required to meet the changing needs of the learners.
With the traditional training methods, there are chances that the learning absorption and retention fades over a period of time as the employees keep transitioning in their career. However, with a contemporary digital learning approach, retention rate is much higher and it is possible to assess the learning curve of each individual and analyse the effectiveness of its outcomes.
Cognigix being a digital learning platform, dives deep into the learning and development challenges in the BFSI industry and provides solutions built on the foundation of decades of experience in the learning and development domain. It delivers individually personalised learning experiences that can bring a transformational change in the functioning of BFSI.
Implementing an impactful online training will help organisations in the BFSI sector to achieve growth, derive better performance and improve customer services.
To know about Cognigix Digital Learning Pvt. Ltd.
write to us at info@cognigix.com or call at: +91 22 2778 0083.