Learning has witnessed an immense transformation with the advent of digital platform in the past few years. However, owing to the current pandemic situation, e-learning has become increasingly prominent because of its advantage to deliver and impart education and training anywhere, anytime.
A learning system that is formulated with a formal teaching and presented with the help of electronic resources is called e-learning. While most formal education for all of us has been in the classroom, without the presence of any electronic mediums, e-learning has been proving a boon during this digital revolution.
Cognigix, as a digital learning platform is specialised in providing intensely customised behavioural and technical e-learning modules. Customised e-learning ensures to give the learners a real-time experience of their workplace scenarios and help them prepare accordingly.
E-learning has proved especially useful in the corporate sector, during training programs that organisations conduct to upskill their employees, and accelerate their growth. It is critical to keep your employee updated about technological advancements in their particular fields, which will allow employees to do their jobs better, and in a more effective manner.
Although classroom/ physical training has proven useful so far, there are some disadvantages to it that e-learning brings to the table.
Challenges faced by traditional classroom learning and how can e-learning help:
For large organisations, it is impossible to gather their entire teams at the same place and time to deliver any learning experience or opportunity. The increasing demands for personalised solutions, job demands, and tight deadlines are just a few of the reasons why it is not practical, nor advisable for organisations to conduct mass physical lectures.
Which is when customised e-learning comes into the scenario. With e-learning, you can allow your employees to upskill themselves at their own pace, and time. This does make sure that your team does not have to leave their job demands aside and focus on the learning that they can do that at their own time. With e-learning, it is also easier to teach your employees to respond better as they put in efforts to make themselves updated as per the industry advancements.
What are the benefits of e-learning?
Saves Time and Money
Better knowledge retention
Consistent learning experience
Scalable irrespective of number of learners
Most importantly, personalisation of content
Why should you customize your e-learning with Cognigix?
Customization today is the ultimate e-learning experience that any organisation can offer to their employees. Cognigix customized e-learning ensures that your employees are receiving the right curriculum to what is relevant to their and the industry needs. Customization takes into account the learning behaviours of an individual which makes the learning process even more effective.
Customized e-learning is easily perceived and understood by an individual as it is tailored to their needs. They understand technical concepts better and absorb the same content in a shorter period in a much more effective manner.
In our journey, we have come across small, medium, and large-scale organizations that have specifically unique learning requirements. And we specialize in catering to these requirements by our customised e-learning solution for various industries. At Cognigix, we believe that customized e-learning is the best approach to upskill and value employees and experience overall growth in the organisation.
Customized E-Learning saves time, effort, and resources to ensure that the output of the learning efforts is optimized. Learners can retain the information in a much more effective and personalised format. It also encourages employees to take effort and achieve greater success in their careers. The scalability helps in reducing the cost to the company whilst adding a significant value to the learning.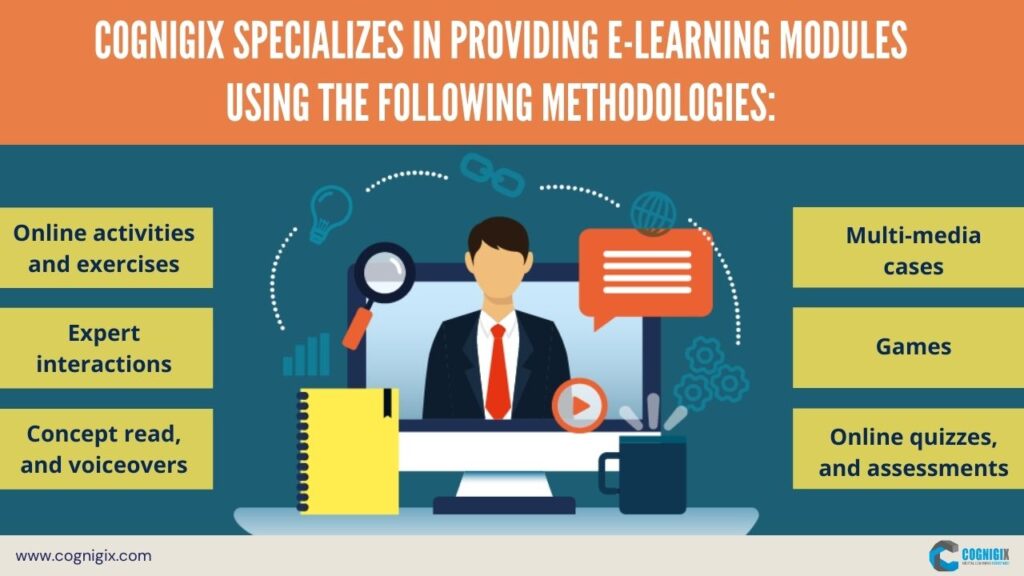 Cognigix specializes in providing e-learning modules using the following methodologies:
Online activities and exercises.
Expert interactions
Concept read, and voiceovers
Multi-media cases
Games
Online quizzes, and assessments
Upskill your employees and boost your company growth with Cognigix customised e-learning solutions.
Reach out to us at: info@cognigix.com or call us at: +91 22 2778 0083