Employee onboarding and induction play important roles in a new joinee's understanding of the ethics and values of the organization, and further an interactive induction session helps the new employee feel welcome and easily adapt to his/her job roles and responsibilities. However, in the current situation with the prevailing lockdown, many organizations are facing problem in inducting new candidates, due to the lack of a systematic infrastructure.
The present global scenario when even experienced people are losing jobs in a jiffy, pressure is building up upon the new joinees. So, an interactive and motivational induction session can boost them up and allow them to explore their skills to prove themselves valuable assets to the organization. To cater to this requirement, digital learning companies are coming up to the forefront with their unique e-induction programs for the new joinees and other employee-centric customized learning solutions are also on the offer.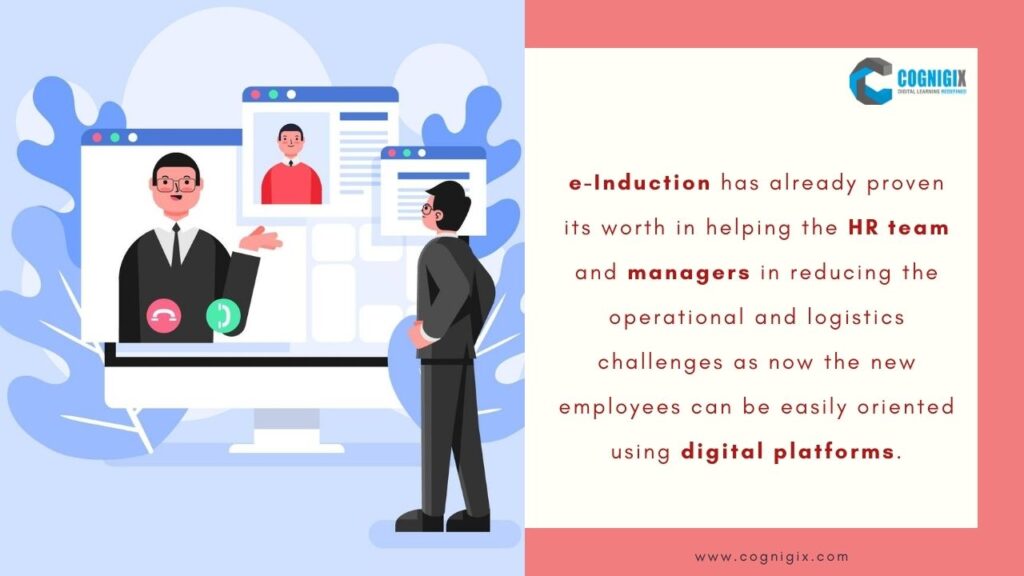 The current situation is posing challenges for the HR to function effectively and provide a seamless onboarding experience to the new joinees. e-Induction has already proven its worth in helping the HR team and managers in reducing the operational and logistics challenges as now the new employees can be easily oriented using digital platforms. To cope with the earlier stated challenges and to improve HR productivity and employee experience, Cognigix, a digital learning company, is offering a unique e-induction program, that can help the new joinees to learn more about the company and get accustomed to the organization. The e-Induction modules will be custom-developed for the organisations in each and every aspect. A learning delivery app will be deployed to access the e-Modules in an easy-to-navigate manner with a user-friendly interface, to ease employee induction process.
Built with an objective to overcome the logistic and administrative challenges of induction across geographies, this e-induction program focuses on digital learning methods. The provision of customized modules and delivery using mobile app makes it easily accessible at any time, as per convenience. The modules can be made available in any language and so the language of the app. The personalized learning assistance will motivate the new employees to complete the orientation modules in time and make them ready to hit the ground running.
Cognigix is striving towards creating the online induction process enjoyable, easy, productive and a rich learning experience for the new joinees.