Why do organizations avoid outsourcing learning or digital training?
It is because of misconceptions and doubts. Is there a team going to coordinate with your company? What happens if the communication starts to break down? Companies decide to hire a digital learning content development company to smoothen things and magnify potential productivity. But some myths would only hamper or paralyze the process of outsourcing a digital learning company.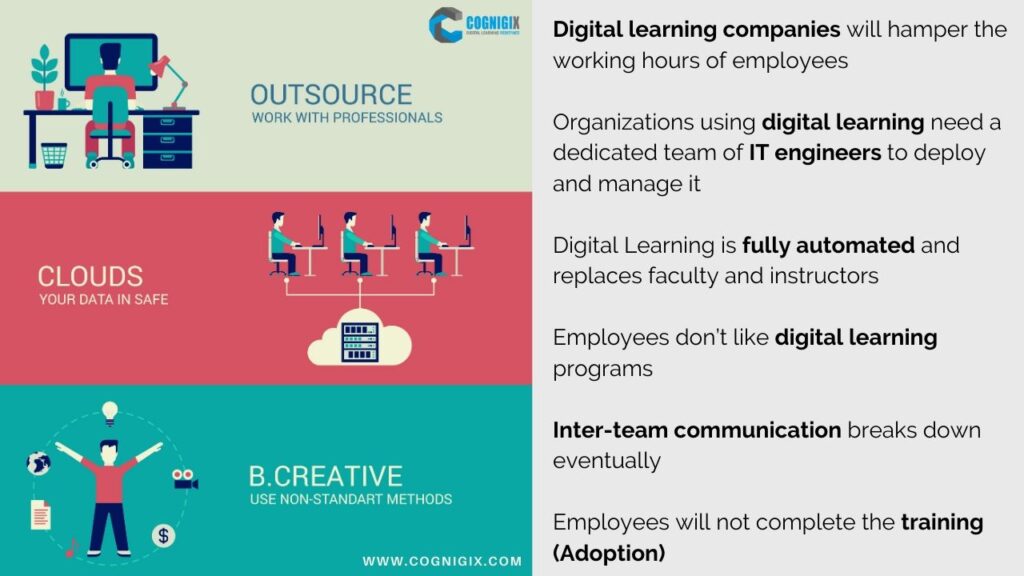 Digital learning companies will hamper the working hours of employees- One major myth of any training or learning program are the effect it will have on employee productivity. Even if it is a start-up or a large business, the first question that strikes in their mind is the stake of productivity. But the myth doesn't hold true in digital learning companies as they provide learning on the go to the learners, which helps them learn anytime and anywhere, not changing their work hours.
Organisations using digital learning need a dedicated team of IT engineers to deploy and manage it- In various cases, this is true for "on-premise" implementations, where the training software gets installed and implemented on the organisation's servers. But for digital learning, this does not hold true as there are cloud-based platforms, customised learning mobile applications. The digital learning firms purely provide the deployment to the companies.
Digital Learning is fully automated and replaces faculty and instructors- This is a more significant concern for the HR and training teams of the company, and it gives a special relief in busting this one for the readers. Digital training platforms will automate numerous things for clients, like scheduled reports, assessment reports, training calendars, email reminders. Blended learning is a style of training in which learners can learn through electronic and online media as well as traditional face-to-face training for clients who wish to opt for it.  There are various informative and engaging content designed which includes faculty vides, online forums- where the learners can ask questions to the faculty.
Employees don't like digital learning programs– Certifications signed by a notable authority of the company and rewards that boost confidence and ignite the lamp of competitiveness, continuous learning, and knowledge are the few highlights for any employee. So the misconception of employees not much liking the training programs doesn't hold true.
Inter-team communication breaks down eventually- The client and training company communication is a fundamental and crucial responsibility of a digital learning company, and that is the system to deliver the tracked reports, assessments, adoption statistics, and maintain a healthy client relationship too. Learners' monitoring is practised by the digital learning company continuously to manage reports and statistics. The digital learning company won't break their system at any cost.
Employees will not complete digital training (Adoption)- Adoption is the test of the digital learning company. Making sure of the adoption remains as the sole of the digital learning deployment. The client doesn't have to assure adoption, but it is the critical function of the digital learning company to ensure that every expected learner has participated and completed the program.